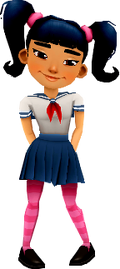 Harumi is a limited character from Tokyo. She is a rather shy person, as she doesn't talk that much. She makes her Subway Surfers Kart debut in the game of the same name, but she skips two games to make her next appearance in Subway Surfers Kart: Double Trouble!!. After skipping Subway Surfers Kart DS, she has appeared in every game since Subway Surfers Kart Wii. In the Subway Surfers X Dolls Kill collab, Harumi wears a pink Tokidoki X Hello Kitty Hello Dreamy Graphic Tee, a Back in The Day Dungarees overalls, a pair of Astro Advantage Knee High Socks, a pear of Neon Pink Corin Platform Sneakers, Colorful Cutie Multi Hair Ties Set on her wrist, and Furever Famous Hair Clips on her pigtails. Harumi along with Mina are the only surfers to wear a bunch of Juku Store fashion for the Subway Surfers X Juku Store collab.
Harumi is the first character that get's an Alternate Outfit, she gets a Lolita Outfit because she loves Harajuku Fashion.
She's BFFs with Mina from Seoul
She is in love with Brandon.
Community content is available under
CC-BY-SA
unless otherwise noted.